Tenroc Hunting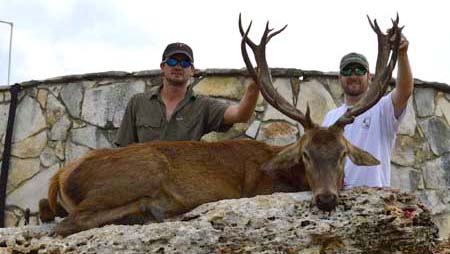 Tenroc Ranch is a beautiful 1200 acre ranch with rolling terrain, spring-fed creeks, majestic live oak trees and distinctive rock embankments. For more information call Mike Savoy at 512-635-2320
This terrain provides a perfect natural habitat to support deer and other wildlife. We are currently crossing our native deer with South Texas genetics. All wildlife are supplemented daily with protein, mineral, and natural food plots to promote maximum antler growth.
Whether you use a bow, rifle, or muzzle loader, you can count on an adventure. Enjoy the relaxing atmosphere of the bunkhouse, which accommodates 4 to 6 people, complete with kitchen, big screen HDTV, washer/dryer, outdoor fire pit and grill.
Please call for group discounts, available specials, and management hunts!
Hunting at Tenroc - 2014
Axis
Black Bucks
Fallow
Red Stag
Sika
Rams
Whitetail
Packages include guide, two night lodging, one doe and one buck.